Origin

Changelings

Class

Ranger

Kit

Spy
Culture

Faction

Ethos

Champion
Abilities
You may change your physical appearance and body shape to another humanoid form at will. You can't mimic the appearance of a specific person. You have disadvantage on Mighty.
You have advantage when tracking or hunting prey and performing stealth maneuvers or survival tactics in the wilderness (or any such terrain you're familiar with). You always have at least 1 cheap supply, even when imprisoned or disarmed. Such supply has no resale value.
You are a master of disguise and a professional pretender. For 2 MP, you can make a skill check as if you were proficient in that skill. Given enough time to prepare, you may expend a cheap supply to create a near-perfect impersonation of your target. Make a Performance check to establish a stealth score for your disguise.
Equipment
Weapons
Throwing Dagger +5
Thrown
Bare Fists or Feet +4
Hand-to-Hand
Armor
Stealth Jazerant
Piecemeal
Stances
Focus
You can assign a passive stance as your focus after resting, or spend 1 MP to assign it at the start of the round.
Armament
Weapons
Name
Attr
Skill
DMG
Tactics
Throwing Dagger
Switchblade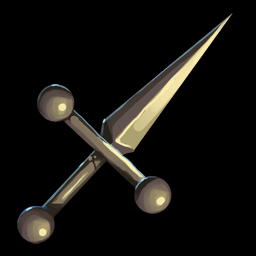 Stiletto
Armors
Stealth Jazerant