Origin

Humans

Class

Daredevil

Kit

Wizard
Culture

Idanian

Faction

Alduran

Ethos

Arbitrator
Abilities
You may distribute 11 points to your attributes upon character creation, but if you do, you start with 1 fewer skill.
For 2 MP, you may gain advantage on any roll of your choice (except attacks). You also start with 4 fate points instead of 3. When you switch stances, it does not cost you MP, and you may choose a stance at character creation. The maximum amount of fate points you can accrue is 4.
When you adopt this kit, choose a school of magic. You may spend a consumable supply to scribe a scroll that contains a spell from the chosen school of magic. It takes an hour to scribe a scroll, and anyone who reads your scrolls can cast the spell contained therein. You may choose to make a scroll indecipherable except to those with an Arcana skill you know. The reader of the scroll must expend MP to cast the spell at the time the scroll is read, and the scroll is consumed after the spell is cast. Spells cast from your chosen school explode on a 5 or 6.
Equipment
Weapons
Surujin (Chain Dart) +7
Flexible
Bare Fists or Feet +5
Hand-to-Hand
Stances
Focus
You can assign a passive stance as your focus after resting, or spend 1 MP to assign it at the start of the round.
Choose a Shield
Loading...
—
Choose a Weapon
Loading...
3
Choose an Armor
Loading...
—
Choose a Weapon
Loading...
Piercing
Damage you deal with this weapon ignores soak.
3
Surujin (Chain Dart)
Weapon
Choose a Weapon
Loading...
—
Armament
Weapons
Name
Attr
Skill
DMG
Tactics
Surujin (Chain Dart)
Katana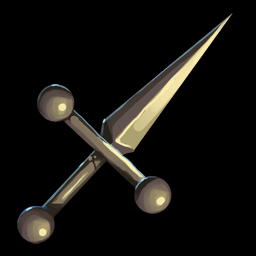 Stiletto
Armors
Scale Mail
Shields
Name
Def
MP
Mighty
Tactics
Coffin (Tower)